Make Your Hearing Aids VANISH in Minutes!
The fast, easy, permanent way to make hearing aid tubes match any skin tone.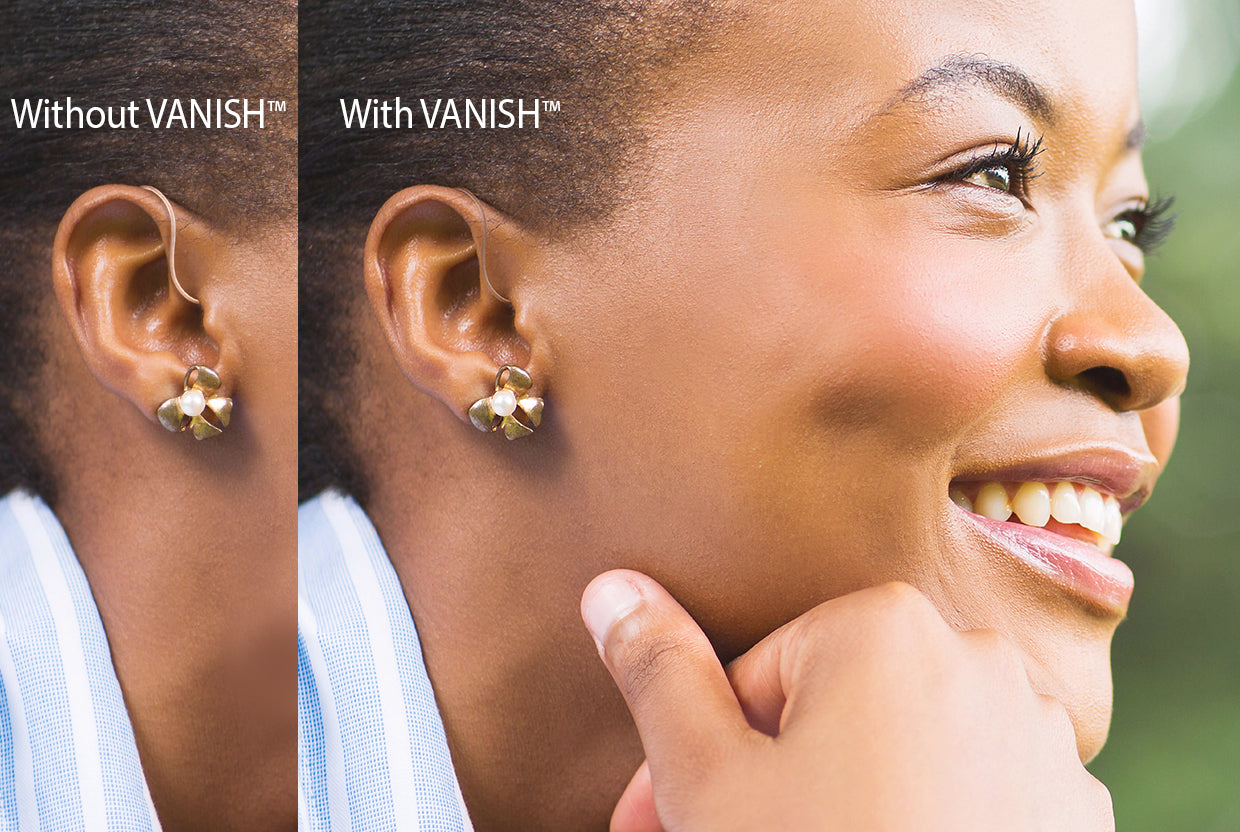 I'm just not going to purchase
hearing aids that contrast so vividly
with my skin tone. VANISH opened
a hearing door that I had
completely closed.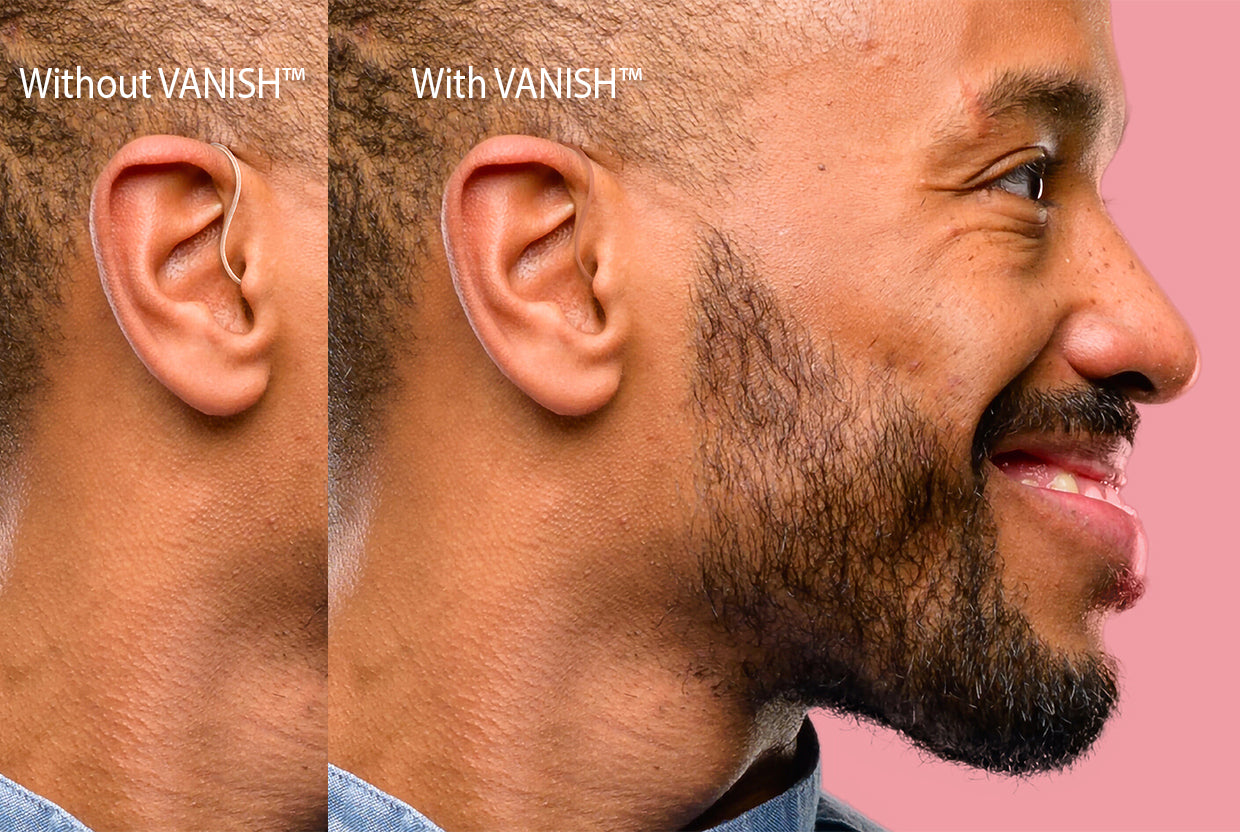 People try not to, but they kept
looking at my hearing aids like I'm
defective? It's a relief to know how
impossible it is to see them with
VANISH.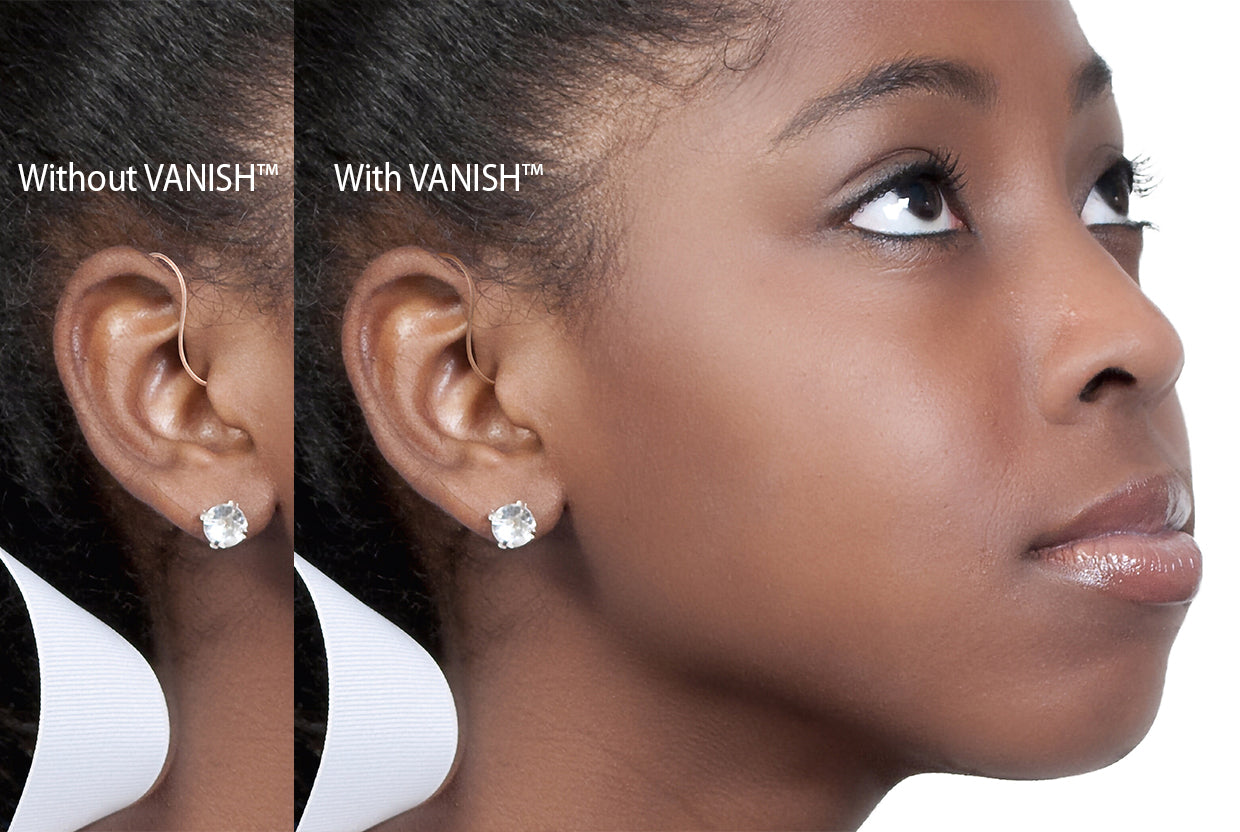 We all wait longer than we should
to purchase hearing aids, probably
due to the visibility issue. VANISH
makes it so much easier to avoid
this unnecessary delay!
The VANISH ADVANTAGE
It's permanent, won't fade or affect clothing or skin.
It's 100% organic and non-toxic.
It's non-allergenic, safe for anyone.
The color can be adjusted to make small changes.
The application process is quick, safe, easy to follow and fool proof.
The results are fast, ready to use in seconds!
The dye is reusable for up to two years.
No one will ever realize you're wearing hearing aids, you'll love the way they disappear.
If you're not happy with your VANISH, there's a 100%, no questions asked return option.
What Others Say About VANISH
"Like many people who wear hearing aids, I was very dissatisfied with the visible wires around my ears. Being a dark-skinned African-American, the plastic hearing aid wires contrasted significantly against my complexion. Not wearing my hearing aids is not an option.
I have been looking for a way to hide my wires so that people look me in the eyes when we speak, not at the ears. Finally, I came across the Vanish product. After using the Vanish D9 shade, my wires now blend into my skin and are barely visible, even to me. I feel so much better about myself. I had no idea how much the visible hearing aid wires were affecting my self confidence. Now those of us who wear hearing aids can concentrate on how we live instead of how we look.
If you are on the journey that I was, looking for a way to make your hearing aid wires "vanish," I encourage you to try this product. I am so happy that I did."– Selma A., Fresno, CA
"I had my hearing aid tubes dyed and my mother's also. They are now truly almost invisible. This is a great product. I'm an artist and working with paints and dyes is second nature to me, so I can appreciate what went into the development of Vanish. Thank you so much for inventing this process. Now, I don't ever leave my hearing aids in the drawer."
– Janice J., Denver, CO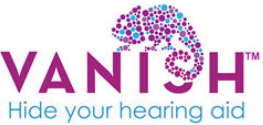 A Very Short Story by the Inventor.
Like almost all of us, I waited longer than I should have to admit I couldn't hear well. It became painfully obvious when my wife Jill, explained in very colorful language, that she was tired of being my hearing aid.
I was impressed and relieved with how well my new hearing aids behaved. Until I looked in the mirror. I felt so stupid. Why didn't I buy the ones you couldn't see? That's when I found out no one makes one you can't see. And that's what spawned the creation of VANISH.
People passionately describe why they refuse to adopt hearing assistance: cost, stigma, visual awareness, association with deformities, age and physical deterioration and unflattering comparisons. We sincerely believe that VANISH can eliminate everything but cost.
We don't need to explain why we use VANISH. If it helps us hear and understand the sounds around us, the ultimate reward is regaining what we've lost.
Al Musser